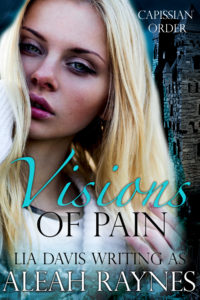 Visions of Pain
Capissian Order, book 1
Get it at your favorite eBook store: https://books2read.com/u/38ggYL
Life changing event is an understatement.
Seventeen-year-old Rylee Baker's whole life has been filled with half-truths. She knows her mother was murdered, but not why. She has never met her mother's family and has very little contact with people of her own race.
Everything changes when her Capissian powers wake up and her father moves them to the small town of Narmik Springs, hidden in the Blue Ridge Mountains. She's pulled into a culture she knows little about and a civil war threatening to spill over into the human world.
If that isn't bad enough, someone wants her dead.
It's up to Reed, Sawyer, Cal, Kent, and Dalton to help her control her growing powers and ensure she lives long enough to fulfill an ancient prophecy.